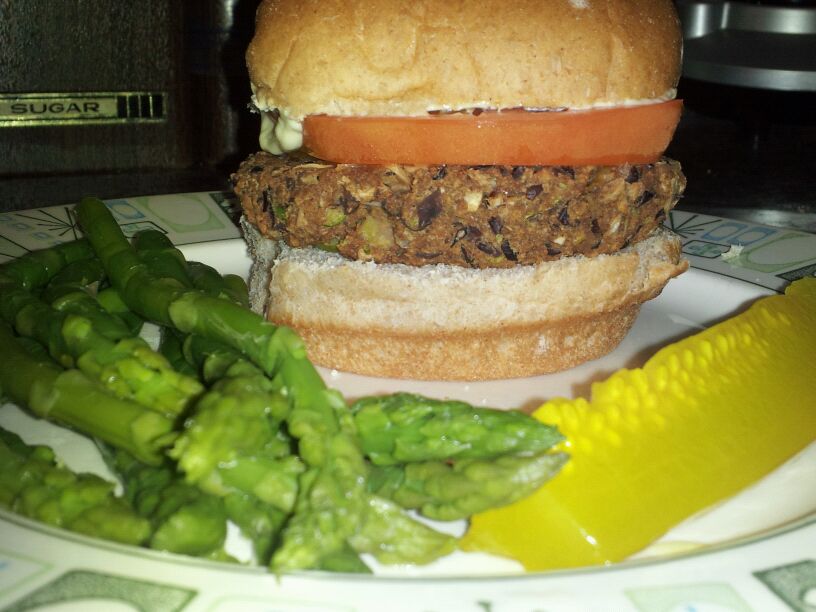 A veggie burger is a patty that contains no meat and is usually made with beans and vegetables. As a meat eating child, I grew up eating hamburgers. It's a staple in an American diet. After I stopped eating meat, I longed for a good veggie burger to satisfy that childhood craving. I tried them at various restaurants, and they were either a frozen, premade patty or a big, mushy mess. Eventually, my fiancé came across this recipe, so we decided to try it. To our delight, it was a really good veggie burger. It's the best veggie burger I have ever tasted and is what I compare every other burger to. The combination of black beans, cumin, and chili powder make this a very tasty and fulfilling patty. Do yourself a favor and put the pre-made patties back in the freezer and make one of these!
Homemade Black Bean Veggie Burgers
Ingredients
1 (16 ounce) can black beans, drained and rinsed
½ green bell pepper, cut into 2 inch pieces
½ onion, cut into wedges
3 garlic cloves, peeled
1 egg
1 tablespoon chili powder
1 tablespoon cumin
1 teaspoon Thai chili sauce or hot sauce
½ cup bread crumbs
Instructions
Preheat the oven to 375°F and lightly coat a baking sheet with cooking spray.
After draining and rinsing the black beans, pat them with a paper towel to remove the excess water. Mash them in a medium bowl with a fork until they are thick and pasty.
Finely chop the bell pepper, onion, and garlic in a food processor. Dry the vegetables using a paper towel then add them to the mashed beans.
In a small bowl, stir together the egg, chili powder, cumin, and Thai chili sauce. Add the egg mixture to the mashed beans.
Mix the bread crumbs into the mashed beans until the mixture is sticky and holds together. Divide the mixture into four patties.
Place the patties on the baking sheet and bake for 12 minutes. Flip them and bake for another 10 minutes.
Notes
Nutrition Information Per Serving: 184 calories; 3.4g fat (0.7g sat, 0.3g mono); 46.2mg cholesterol; 30.2g carbohydrate; 9.8g protein; 7.4g fiber; 285mg sodium; 521.2mg potassium; 14.1% vitamin A; 33.1% vitamin C; 10.4% calcium; 19.3% iron.

Total Cost Per Serving: $0.76
Adapted from Allrecipes.com | See the cost breakdown here
*The nutrition information and total cost may differ depending on the exact ingredients you use.