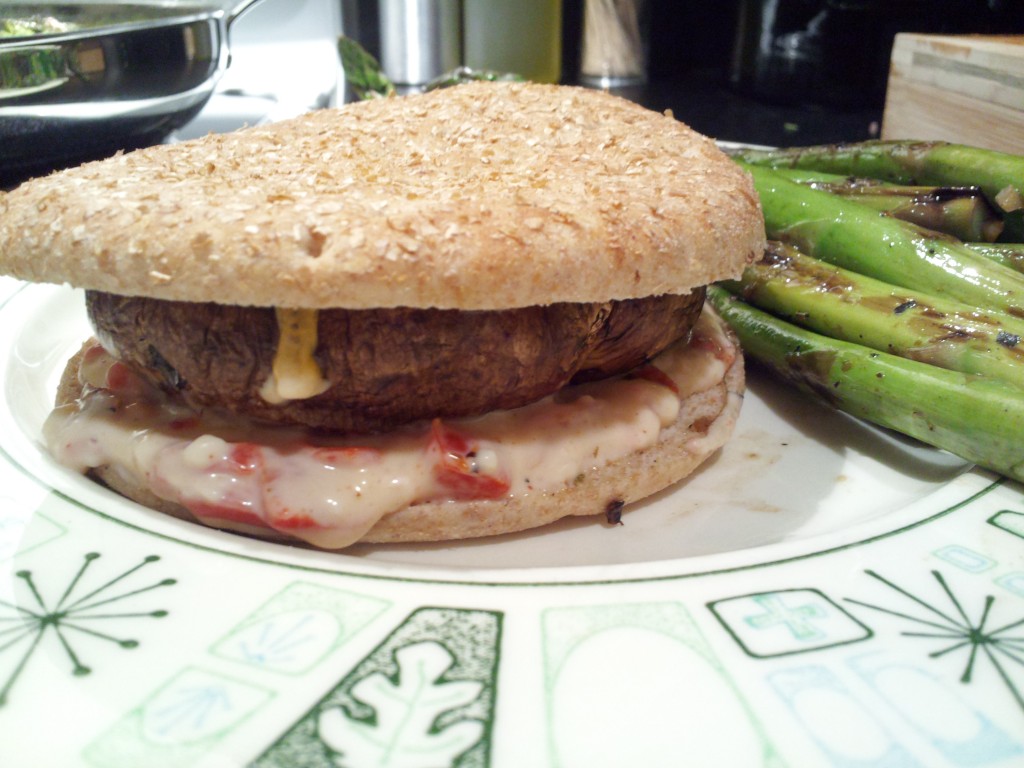 Portobello mushrooms make a tasty and satisfying burger. They have a beefy flavor that becomes stronger when grilled or in this case broiled. Add a little cheese, and you won't be craving a beef burger anymore.
I know my last post was about veggie burgers, but my fiancé and I recently discovered this recipe, and I just HAD to share it. The Smoky Red Pepper Mayo is what really makes this burger a winner. Also, not only is it delicious, but it is super easy to make. You can have it done in less than 30 minutes! That makes it a go to recipe for anyone who has limited time on the weekdays.
Portobello Melts with Smoky Red Pepper Mayo
Ingredients
4 large portobello mushroom caps
Olive oil cooking spray
4 (0.7 ounce) part-skim mozzarella slices
2 tablespoons shredded Parmigiano-Reggiano cheese
4 (1.5 ounce) whole wheat sandwich thins
½ cup light mayonnaise
2 tablespoons chopped bottled roasted red bell pepper
1 teaspoon fresh lemon juice
½ teaspoon smoked paprika
½ teaspoon minced garlic
Instructions
Preheat the broiler on high. Coat the broiler pan with the cooking spray.
Spray both sides of the mushroom caps with the cooking spray, and place them gill side down on the broiler pan.
Broil for 5 minutes, turn the mushrooms over and top them evenly with the cheeses. Broil another 5 minutes or until the cheeses melt.
While the mushroom caps broil, combine the mayonnaise, roasted red bell pepper, lemon juice, smoked paprika, and garlic in a small bowl to make the Smoky Red Pepper Mayo.
Divide and spread the Smoky Red Pepper Mayo evenly on the sandwich thins.
Place the mushroom caps on the bottom of each sandwich thin and top each with the sandwich thin top.
Notes
Nutrition Information Per Serving: 322 calories; 15.7g fat (0.3g sat); 27.5mg cholesterol; 30.4g carbohydrate; 16.0g protein; 5.1g fiber; 644.9mg sodium; 9.2mg potassium; 9.5% vitamin A; 20.8% vitamin C; 31.5% calcium; 6.1% iron.

Total Cost Per Serving: $1.87
Adapted from Cooking Light Fresh Food Fast Weeknight Meals | See the cost breakdown here
*The nutrition information and total cost may differ depending on the exact ingredients you use.